Next Generation Network (NGN)
Brief Explanation/Definition of NGN
ITU-T recommendation Y.2001 identified a definition of NGN as explained below.

Next Generation Network (NGN): A packet-based network able to provide telecommunication services and able to make use of multiple broadband, QoS-enabled transport technologies and in which service-related functions are independent from underlying transport-related technologies. It offers unfettered access by users to different service providers. It supports generalized mobility which will allow consistent and ubiquitous provision of services to users.

And this recommendation further specifies key features of NGN as follows:
• Packet-based transfer
• Separation of control functions among bearer capabilities, call/session, and application/ service
• Decoupling of service provision from transport, and provision of open interfaces
• Support for a wide range of services, applications and mechanisms based on service building blocks (including real time/ streaming/ non-real time services and multi-media)
• Broadband capabilities with end-to-end QoS (Quality of Service).
• Interworking with legacy networks via open interfaces
• Generalized mobility
• Unfettered access by users to different service providers
• A variety of identification schemes
• Unified service characteristics for the same service as perceived by the user
• Converged services between Fixed/Mobile
• Independence of service-related functions from underlying transport technologies
• Support of multiple last mile technologies
• Compliant with all Regulatory requirements, for example concerning emergency communications, security, privacy, and etc.
Focus Group on Next generation Network (FGNGN) was been created under ITU-T Study Group 13 on 23 June 2004 to address the emerging needs for global standards for NGN. FGNGN was made-up of seven working groups:
Services and capabilities

Functional architecture and requirements

Quality of service (QoS)

Control aspects

Security issues

Migration of current networks into NGN

Future packet based network requirements

<![if !vml]>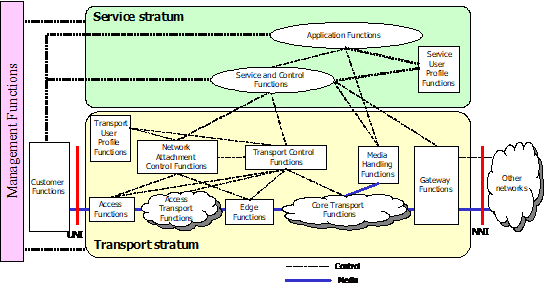 <![endif]>
Figure. NGN architecture overview (Source ITU)
---
ITU-T NGN FG Proceedings
---
---